New Asylum character and new sizes of heads on sale NOW!
Statuesque Miniatures is pleased to announce the release of three new products.
"Professor Felicity Poppington has been investigating the stories surrounding Statuesque Asylum for some time, interviewing former patients and staff to hear their tales of horror and dread. Now she must cross the threshold and discover for herself what hides in the shadows of this benighted place."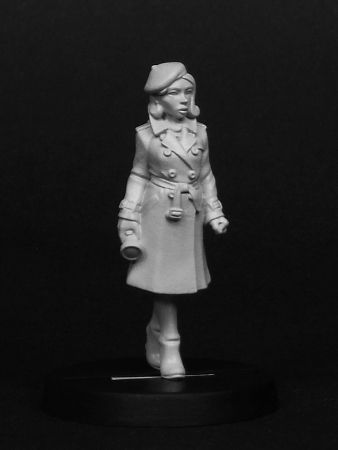 First up we have
Professor Felicity Poppington
, a new addition to the Statuesque Asylum range of pulp figures.
Professor Felicity Poppington
is priced at
£4
and is available to buy now.
Next we have two new sprues of female heads. In addition to the ever popular
Heroic Scale Female Heads
range, we now have two new sizes of heads with which you can convert your figures. Check out my blog for various
comparison pictures
of Statuesque miniatures and accessories alongside other ranges.
The
Fine Scale Female Heads
are designed to match the size of the Statuesque Sci-fi range and are priced at
£4.50
for 10 heads.
The existing Fine Scale Resistance Fighter range of heads have long been used by customers to convert various manufacturers' figures, particularly those that feature smaller, finer heads than most. These new heads expand on that range, giving more options for conversions.
The
Pulp Scale Female Heads
are designed to match the size of the Statuesque Asylum and Pulp Alley ranges, and are also priced at
£4.50
for 10 heads.
I'm hopeful this new size of head sprue will prove popular. I consider them to be a pretty standard size of head - if such a thing can be said about miniature figures - and as such they can be used with a wide variety of figures of all genres. I've been busy converting various figures from my collection and will show the results on the
Statuesque Miniatures Facebook
page in the next few days.
So now there are three size ranges of Statuesque Miniatures Female Heads, so hopefully there will be something to meet your needs. Both the
Fine Scale
and
Pulp Scale
ranges will be expanded to feature all the options available in the
Heroic Scale
range -and more!